Mhdb videos & songs German
Videos:


The Mhdb video page was launched in September 2012

.

Over some 20 years (approx. 1990-2010) Mhdb ha

ve

created a repertoire of 43 own songs

,

which have been interpreted by

T

he Mhdb Session Trio as 'Mhdb standards'

on the Mhdb sessions a

nd which

were

fully documented

as

live videos on YouTube

in

201

6.
The Mhdb videos are kept up-to-date by replacing an old one with a new one and continue to 'rawly & simply' document the Mhdb development.
Especially the song videos of set 1-3 have been updated since 2018, also as 'acoustic' versions.
The corona crisis leads to the interruption of the Mhdb sessions and recordings; up to the song updates being postponed due to coronavirus: Quarantine solo project (Bambulete live). Live streaming (planned): Wednesday (occasionally), 21:00 (9:00 p. m.)
MP3:
The live songs by Mhdb, which have evolved since around 1990, were systematically digitally reworked in the Mhdb style between 2005-10, and have since been available as a computer-generated Mhdb real book containing standards, which are used for the Mhdb sessions.

From October 2017 to April 2018

, the Mhdb & Bambulete MP3s were updated and completed, especially the Bambulete sets 4 & 5.
Bambulete - a virtual percussion group, established in 2010 - also performs the 43 Mhdb songs or standards with German spoken lyrics, but in a largely atonal & percussive style, as well as entirely computer-generated (mp3). Also live since 2020: Quarantine solo project (Bambulete live, videos).
Full details: password via mozarthatdenblues@gmail.com

The most popular Mhdb & Bambulete songs:

"MozartHatDenBlues"

"MozartBoogie 2014"

"Mampf Intro"

Set 2 (YouTube playlist)
MP3:
"MozartHatDenBlues"
"ClickSoundBoogie"
"WasserfallBlues"

"BambuleteHatDenBlues"
"BambuleteRangTrophue"
"BambuleteLaendler"

"BassGuitar" (The Esquires, 1964-67)
Set 1
Set 2
Set 3
Set 4
Set 5
Extras
. Examples 2012-21
. Mampf, Hippokratesschule, Theaterstuebchen, 2012
. Quarantine solo project, 2020-21
- Set 1:


01. "MozartHatDenBlues", Mhdb session, 2014. 5:06 - Update postponed due to coronavirus; until then: Quarantine solo project
MP3
BambuleteHatDenBlues (computer, mp3)
BambuleteHatDenBlues live (video)

02. "BumerangTrophue", Mhdb session, 2014. 3:24 - Update postponed due to coronavirus; until then: Quarantine solo project
MP3
BambuleteRangTrophue (computer, mp3)
BambuleteRangTrophue live (video)

03. "Moench&NonneBlues", Mhdb session, 2014. 4:32
MP3
Moench&NonneBambulete (computer, mp3)
Moench&NonneBambulete live (video)

04. "FliegenMeiden", Mhdb session, 2014. 5:53
MP3
FliegenBambulete (computer, mp3)
FliegenBambulete live (video)

05. "WindbeutelBlues", Mhdb session, 2014. 3:33
MP3
WindbeutelBambulete (computer, mp3)
WindbeutelBambulete live (video)

06. "SchlaegePop", Mhdb session, 2014. 4:45
MP3
BambuletePop (computer, mp3)
BambuletePop live (video)

07. "Schuft", Mhdb session, 2014. 2:59
MP3
BambuleteSchuft (computer, mp3)
BambuleteSchuft live (video)

08. "Zaehnelos", Mhdb session, 2014. 4:32
MP3
BambuleteZaehnelos (computer, mp3)
BambuleteZaehnelos live (video)
- Set 2:

09. "MeinerAnsichtNachBlues", 'acoustic', Mhdb session, 2018. 3:04
MP3
MeinerAnsichtNachBambulete (computer, mp3)
MeinerAnsichtNachBambulete live (video)

10. "FraeuleinAngst", Mhdb session, 2014. 5:02
MP3
FraeuleinBambulete (computer, mp3)
FraeuleinBambulete live (video)

11. "Fertigteigwalzer", Mhdb session, 2014. 3:39
MP3
Bambuletewalzer (computer, mp3)
Bambuletewalzer live (video)

12. "FledermausBlues", Mhdb session, 2014. 2:27 - Update postponed due to coronavirus; until then: Quarantine solo project
MP3
FledermausBambulete (computer, mp3)
FledermausBambulete live (video)

13. "ImGrundeHarmlosWaltz", Mhdb session, 2014. 2:55
MP3
ImGrundeHarmlosBambulete (computer, mp3)
ImGrundeHarmlosBambulete live (video)

14. "HalaliShuffle", Mhdb session, 2014. 3:43 - Update postponed due to coronavirus; until then: Quarantine solo project
MP3
BambuleteHalali (computer, mp3)
BambuleteHalali live (video)

15. "WasserfallBlues", 'acoustic', Mhdb session, 2018. 4:59 - Update postponed due to coronavirus; until then: Quarantine solo project
MP3
WasserfallBambulete (computer, mp3)
WasserfallBambulete live (video)

16. "DanteDreher", Mhdb session, 2014. 3:41 - Update postponed due to coronavirus; until then: Quarantine solo project
MP3
BambuleteDreher (computer, mp3)
BambuleteDreher live (video)


17. "ClickSoundBoogie", Mhdb session, 2014. 4:22 - Update postponed due to coronavirus; until then: Quarantine solo project
MP3
ClickSoundBambulete (computer, mp3)
ClickSoundBambulete live (video)
- Set 3:


18. "MozartBoogie", Mhdb session, 2019. 3:24
MP3
BambuleteBoogie (computer, mp3)
BambuleteBoogie live (video)

19. "KarlMarxShuffle", Mhdb session, 2019. 3:43. - 2014
MP3
KarlMarxBambulete (computer, mp3)
CharliesShufflete, 2010 (computer, mp3)
KarlMarxBambulete live (video)


20. "LillebrorLaendler", Mhdb session, 2019. 3:31
MP3
BambuleteLaendler (computer, mp3)
BambuleteLaendler live (video)

21. "OsterhasenBlues", Mhdb session, 2019. 3:13
MP3
OsterhasenBambulete (computer, mp3)
OsterhasenBambulete live (video)

22. "KonfirmationsChacha", Mhdb session, 2019. 4:12
MP3
BambuleteChacha (computer, mp3)
BambuleteChacha live (video)

23. "ErnaehrungsSamba", Mhdb session, 2019. 2:26. - 2012
MP3
ErnaehrungsBambulete (computer, mp3)
ErnaehrungsBambulete live (video)

24. "WeisswuersteBop", Mhdb session, 2019. 3:14
MP3
WeisswuersteBambulete (computer, mp3)
WeisswuersteBambulete live (video)

25. "RunkelruebenSalsa", Mhdb session, 2019. 4:05
MP3
RunkelruebenBambulete (computer, mp3)
RunkelruebenBambulete live (video)

26. "OpaIhmSeinLaden", Mhdb session, 2019. 3:55
MP3
OpaIhmSeinBambulete (computer, mp3)
OpaIhmSeinLalete, 2010 (computer, mp3)
OpaIhmSeinBambulete live (computer, mp3)
- Set 4:

27. "BezweifleEsHupf", Mhdb session, 2019. 5:41
MP3
BambuleteEsHupf (computer, mp3)
BambuleteEsHupf live (video)

28. "MehlhutKHop", Mhdb session, 2019. 3:45
MP3
BambuleteBHop (computer, mp3)
BambuleteBHop live (video)

29. "BestandteileBossa", Mhdb session, 2019. 2:00
MP3
BestandteileBambulete (computer, mp3)
BestandteileBambulete live (video)

30. "DeutscherBauernkriegsBlues", Mhdb session, 2019. 5:44
MP3
BambuleteKriegsBlues (computer, mp3)
BambuleteKriegsBlues live (video)

31. "Klopstock&Kumpels", Mhdb session, 2019. 3:13
MP3
Bambulete&Kumpels (computer, mp3)
Bambulete&Kumpels live (video)

32. "ThomasMuentzerMambo", Mhdb session, 2019. 6:21
MP3
ThomasMuentzerBambulete (computer, mp3)
ThomasMuentzerBambulete live (video)

33. "SeppelSamba", Mhdb session, 2019. 2:59
MP3
BambuleteSeppel (computer, mp3)
BambuleteSeppel live (video)

34. "JoetheJump", Mhdb session, 2019. 5:22
MP3
BambuleteJoethe (computer, mp3)
BambuleteJoethe live (video)
- Set 5:

35. "DesVogelsTueckeTango", Mhdb session, 2019. 3:26
MP3
BambuleteVogels (computer, mp3)
BambuleteVogels live (video)

36. "Papa&MamaJive", Mhdb session, 2019. 3:44
MP3
Papa&MamaBambulete (computer, mp3)
Papa&MamaBambulete live (video)

37. "SchillerStomp", Mhdb session, 2018. 3:39 - Update postponed due to coronavirus; until then: Quarantine solo project
MP3
BambuleteSchiller (computer, mp3)
BambuleteSchiller live (video)

38. "Stan&OllieTango", Mhdb session, 2018. 3:07 - Update postponed due to coronavirus; until then: Quarantine solo project
MP3
Stan&OllieBambulete (computer, mp3)
Stan&OllieBambulete live (video)

39. "PolologieSause", Mhdb session, 2019. 4:17
MP3
PolologieBambulete (computer, mp3)
PolologieBambulete live (video)

40. "CancanDesMittelalters", Mhdb session, 2019. 6:03 - Update postponed due to coronavirus; until then: Quarantine solo project
MP3
BambuleteCancan (computer, mp3)
BambuleteCancan live (video)

41. "AdamRieseRag", Mhdb session, 2019. 4:03
MP3
AdamBambuleteRiese (computer, mp3)
AdamBambuleteRiese live (video)

42. "GottesgeschoepfePolka", Mhdb session, 2018. 3:27 - Update postponed due to coronavirus; until then: Quarantine solo project
MP3
GottesBambuleteGeschoepfe (computer, mp3)
GottesBambuleteGeschoepfe live (video)
- Extras:

43. "Bambulete", Mhdb free jazz, 2019. 7:11
MP3, Mhdb free jazz, computer-generated, 2008-09. 4:42
Percussiolete, Bambulete free jazz, computer-generated, 2010. 4:58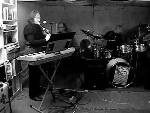 Not counted. "MozartBoogie 1st", the very first Mhdb song video, 2012. 3:19

Not counted. "Medium 2013". 4:42

Not counted. "MozartBoogie 2014". 3:18


Not counted. "Klopstock&Kumpels 2015". 3:05

Not counted. "PolologieSause 2016". 4:01


Not counted. "MehlhutKHop 2017". 3:38

Not counted. "MozartBoogie 2018". 3:20


Not counted. "BestandteileBossa 2019 Extra". 2:01

Not counted. "BambuleteHatDenBlues 2020-21". 6:54
Mampf, Hippokratesschule, Theaterstuebchen, 2012:


Not counted. "WeisswuersteBop", Mampf, 2012. 3:34

Not counted. "RunkelruebenSalsa", Mampf, 2012. 4:03


Not counted. "OpaIhmSeinLaden", Mampf, 2012. 4:04

Not counted. "Mampf Intro", free, 2012. 4:11

Not counted. "HippoIntro", free, private event, 2012. 2:34


Not counted. "ErnaehrungsSamba", private event, 2012. 2:33

Not counted. "HippoEnd", free, private event, 2012. 1:42

Not counted. "WeisswuersteBop", Theaterstuebchen, 2012. 3:09


Not counted. "RunkelruebenSalsa", Theaterstuebchen, 2012. 4:39
Quarantine solo project, 2020-21: